The Tough Journey
March 28, 2019
All I was thinking about was, how are me and my 3 buddies going to get enough money to go to the U.S....? probably work extra hours. Or work another job.
I live in Guadalajara, Mexico. My family can barely raise enough family for food and other essentials. In order to collect more money we decided to for for the cartel. We are thinking of working for the Santa Rosa cartel which is ran by El Marro.
It's going to be hard to get out of the cartel after we have the money. We are going to try and get $20,000 for each of us. Extra money incase we run into people that help us. We only have a few weeks to come up with a plan and get out of the cartel after we have the money. We have a connection that can help us get in the cartel and out. We just can't get caught.
The next few days as we started working for the cartel we met new people to help us. Some others were trying to get to the U.S to, bad as I was hearing there plan it sounded like they would get caught. I met up with my other three friends weeks later and we all had enough money we had planned on having. We met up with our contact.
Later that day like around 11pm we all met up and the person that was helping us was there too. His name is Julio and so he said we had 2 choices to walk through the desert for less and take a vehicle but it would cost more. So we decided to walk, and so we left. The weather was hot and the heat felt like it was burning my skin.
"How many more miles do we have to walk?" my other guy friend Pedro asked
"Muchas millas mas" I replied
We had brought water but we didn't know how hot it would be. The girls were already getting exhausted and their breathing was getting worse. `Pedro's breathing was getting worse too. We couldn't stop because we had no clue if we slept or took a nap if we would wake up or not.
A few minutes later one of the girls Juliana had notified the group that she has asthma but her inhaler was out. Moments later we heard heavily breathing and realized it was Juilana slowly falling to the ground. The other girl Bertha was holding her, we didn't know what to do so we stayed and comfort her. I had told Pedro and Bertha we should go so no animals would come in contact with us.
Bertha said she didn't care and she would stay with Juliana. And that it didn't matter if she died, because Juliana was like a little sister to her. Juliana had died a few minutes after we laid her down. Pedro and I had kept going, the weather got more hotter. Felt like 100 degrees or above, As we started walking more Pedro said he felt like he was going to faint because of the temperature.
I had told him that we had to keep going, but i had realized i was feeling faint to later on. Moments later Pedro said when he looked at me he saw my eyes roll back.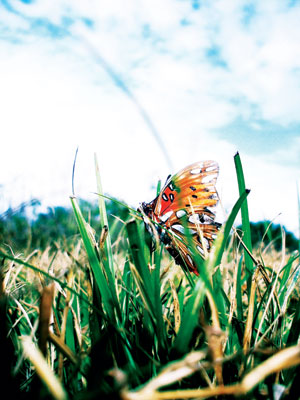 © Ashley B., North Port, FL