Youth From Balloons
August 26, 2009
I could never begin to understand the phrase, "You're too old for that," or "That's for little kids." Youth, something so great, is to be embraced, and the fun you create should last forever, rather than coming to a halt due to the opinions of others.

That idea crossed my mind while I was gleefully skipping as if I was six years old instead of fourteen, to the other side of the gravel road to find dozens of pumpkins in my vision. Small, ginormous, white, orange, all laden with enthralling magic that would soon erupt when I carved into their orange bodies.

"Well, go ahead an pick one," my mother said with a smile jittering on her face as she handed me a red wagon for my orange treasures.

In the sea of pumpkins there were little children swimming about like fish to find their catch, and the little red barn filled with fruits and vegetables like an island next to the sea. And on the east side, there it was…

The Pumpkin Balloon House.

The vast blow-up pumpkin you could step into, and be greeted by many balloons propelled by a fan that flew them this way and that in indefinite directions. According to tradition, every year I would go play the whirlwind of balloons, but something was holding me back. My conscious telling me now that I was older, I couldn't do that. I fought with the thought that was dawning on me, and strode through the pumpkins, over a puddle, and to my mother's side.

"Can I go in the Balloon House?" I pleaded. Her eyebrows lowered, and her eyes squinted.

"Why?" She questioned, extending the letter "Y," maybe a bit too long. Distraught, I glanced around the premises as if searching for a way to convince her that I needed my youth back. Scanning my eyes around everything around me, I caught a glimpse of a mother watching her toddler in the balloon house with an infectious grin on her face. The little blond girl with pigtails was bouncing up and down, laughing and screaming. She made me think about all the fun I had when I was young, and how even something as small as a house of flying balloons dazzled me. I heaved a sigh, and cocked my head toward my mother looking into her eyes as she was trying to understand me.

"Because," It came out as a whisper, and on the last syllable, my eyes wondered to the ground. And suddenly, her face turned soft; as if it had dawned on her at that moment what I was feeling.

She smiled.

"Ok."

Ecstatic, I skipped along with my mother to purchase the pumpkins, and the tickets for the balloon house as well. The cashier smiled warmly at me, as if I were a spirited and young version of her.
She extended her hand that possessed the green ticket, and as soon as my hand gripped it, I was off and bounding towards my destination, yelling behind my shoulder for my mom to follow after me.

As soon as I reached the immense pumpkin, I smirked, and giggled, and stepped into the large circle with colorful round balloons colliding with each other in every direction. I sprang off my feet whacking the ones that came within my reach. As I swatted the light and colorful balls of air, I thought about what youth was. Being completely free, not caring about other people's perspectives on you, never growing too old for fun and childlike games, and even a little mischief once in a while. How at this moment, I was living life, and truly realizing with something as little as an inflatable pumpkin, that I had my happy youth, and it would always be there to fill my life with pleasure.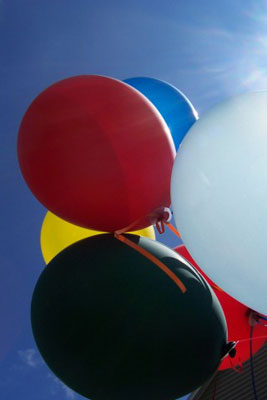 © Simone P., Summerville, SC