The Struggling Return
February 21, 2020
This all took place back in 2001. My name is Maria and this is about the time I crossed the border to head back into the U.S. I was about 27, my husband was 24, and our goal was to head to Tecate, Baja California to go see and introduce my parents to their grandchild, who was about one-and-a-half years old. We had already crossed to the U.S. and had everything going well for us. My husband had a job and I stayed taking care of our son. We wanted what everybody else wanted: a better life, not only for us, but for our kids.

When the day came for us to finally head back home to Sacramento, we knew we couldn't come back the same way we entered. We needed a different route. Crossing the border was a real difficult objective to complete, to me, it was living hell. We contacted two coyotes who were willing to get us across safely. We paid nearly $3000, so that meant that if you pay top dollar, you get top talent.

When my son headed back with my sister and nephews, we met the coyotes, and they looked pretty trustworthy. We didn't carry anything but a gallon of water while the coyotes brought snacks. From there on, we started walking to our destination. As we progressed, our conditions were getting worse very fast. My gallon of water was now empty, I got dizzy and threw up many times.

"Jose, I don't think I'm gonna make it." I cried to my husband.

"We're almost there, we will see our son again. We're not going to die out there, not like this." He said to me, confident.

He motivated me, although it felt like my head was spinning. I had my doubts about me ever returning to my son. At night, we laid on big rocks under the stars high enough from the ground, because in the desert, many things will emerge and kill us off. It was the next day, we had no food or water to keep us going, we just had to use whatever we got left in us. There were 10 others walking alongside us and their groaning of them getting weaker made me nearly give up on succeeding the goal.
I was so weak that by the time we got there, I wanted to collapse in relief, but we had to go somewhere to ensure our safety. We were now in San Diego, the coyotes hid us in a trailer because they couldn't risk us being caught. The area we were in was infested with INS agents as it's common for people like us to hide out here. The journey was over, finally, I got better enough to stand on my own. After waiting for a few hours, my brother came with his truck to drive us back to Sacramento.

"You okay, sis?" He asked as he turned around from the driver's seat.
"Yeah, just glad I'm still alive." I replied.

"Same, let's just hang tight while we head back home." My husband Jose told me.

This trip lasted a day and a half and yet I was already so beaten down just by dehydration and exhaustion. It also didn't become easier for my second trip, I struggled just as much as the last one. Now all my visits have been through the border legally. It's 2020 now, and I'm grateful to still be alive with my kids, who hopefully will have a bright future ahead of them.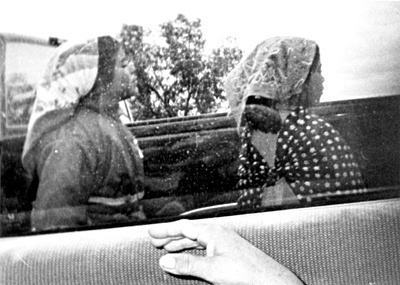 © Amanda M., Lewisville, TX