Don't take it
September 27, 2019
Let's get real, we've all stolen money from our parents before. Our parents aren't stupid but every parents reacts different to those type of things. Some get punished, some lose trust in us, this was how my mom reacted…
The night before everything happened, I took a $20 bill out of my moms purse. All I wanted was a bag a chips. I should've asked, I honestly don't know why I didn't. Back then $20 was a lot to carry, especially for a little 6 year old.
After school that day, I was super excited because I was craving some chips. I remember running to the corn lady as fast as I could. When I got to her I got my chips. She told me my total was $1. I was honestly not thinking about anything else other than eating my chips. I handed her the $20 bill. She looked at me super confused, then she asked me "why did your mom give you so much money today?". I didn't really respond, I kept looking down. I thought she would call my mom...and as I thought, she did. I was
just there staring at her talk to my mom.
My mom was on her way. My heart dropped for 8 straight minutes waiting for my mom to pick me up. I was just staring at the cars passing by and when I saw my mom's car...oh man I felt horrible. I could just imagine how mad she would be at me. She waited for the corn lady to finishes her work with the customers there and as soon as she was done my mom asked her "So what do you mean I gave my daughter a lot of money today?
The corn lady then answered, "she was paying with a $20 bill and she normally gives me a dollar."

"I probably gave her the wrong bill, thanks for letting me know" said my mom.

When we got into the car my mom told me "you think im stupid? I saw you take the $20 bill, I was just waiting to see what you would do with it"

I could read on her face that she was mad but also happy that I learned my lesson. I learned not to grab anything that wasn't mine without permission. Nothing is free in life. We all work for what we want and that's just law.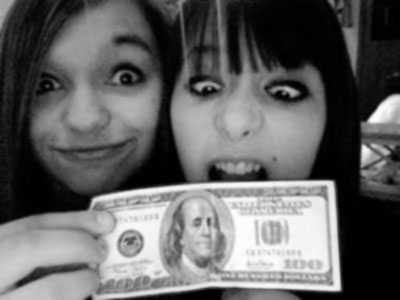 © Kirstyn B., Parker, CO