All I Need Is a Friend
MAG
January 28, 2009
Books fill up my room.
Not baseball cards,
or pictures of girls,
or basketballs.
Maybe a blown up picture of …
… Pam Anderson might help.

Black-framed glasses
and a white,
pale,
lanky
body.
I should start working out.

At least I can read.
I read four books a day last summer.
The librarian,
80-year-old Mrs. Woodsworth,
she knows my middle name.
If only I had a real friend.
I am sick of seeing her old,
bony,
pale body.
Although it resembles mine.

The kids at school laugh.
Is it the way I dress?
Lacoste,
Ralph Lauren,
La Tigre.
I've tried every designer out there.
Staying in the house really saves me money.
My stupid rich parents give me $50 a week for lunch.
$50 times 36 weeks …
what is that?
$1,000,
$2,000,
$10,000?
I should probably know.
Straight A's 12 years in a row
and counting.

With all of this,
or none of this –
it depends how you look at it –
all I need is a friend.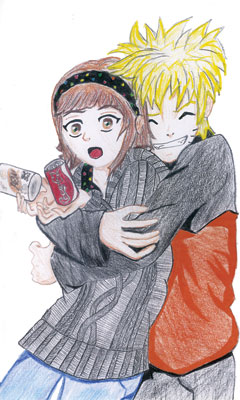 © Mariana O., Tecate, CA